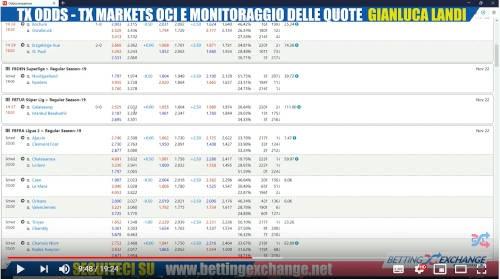 TxOdds is the creator of Tx Markets, a software for real-time monitoring of bookmakers odds that provides excellent support for identifying the direction of the market based on changes in bookmakers odds and consequently the betting strength (volume) on certain markets.
TxMarkets doesn't show the volumes played on the main Asian and European bookmakers, but the number of bookmakers who have changed a certain odd since the opening and consequently it shows an indication of where the bets have moved and placed giving to the users more informations about the betting flow.
TXODDS
Txodds is an active English company with more of 20 years experience in the betting industry who provides data from top international bookmakers to its customers showing real-time changes in odds with a very low latency.
In recent years it created a very powerful software for the bookmakers in order to analyze the odds with advanced mathematical statistical models using also the learning machine to understand which movements to expect.
The main products of Txodds are:
Trader Feed
Market Feed
Tx Dash
Tx Lab
Tx Market the product we are taking in exam and who fits evolved bettor and sport trader perfectly

How Tx Markets works

TxMarkets is a service available on the company's dedicated website www.txmarkets.com, where once you have logged in you have all the tools available to start monitoring the odds from the main Asians and Europeans bookmakers with the purpose of showing where the market moves and the betting flow placed by simple bettors, investment funds or people who have "privileged" information.

You have to keep in mind that Txodds does not provide the volumes played in bookmakers as this information is too sensitive and will never be provided by any bookmakers because it would let you know where all customers are located and the bookmaker's total market exposure.

So we will never have this information available, but through all the indications showed by Txmarkets, the ones who know how to use it could have similar indications.

The odds as we have already explained in the past do not remain static but they move according to many variables including the betting flow who lower or raise the odds.

Sometimes bookmakers love to insert trap odds to confuse bettors showing a value tha doesn't mirror the truth. Showing odds change in many bookmakers, TxMarkets helps us to have the situation clear showing the "true" trend of the market thanks to its OCI (Odds Change Index) indicator.

What is OCI

The best known indicator that has made txodds famous is the OCI odds change index, it gives an idea of how and with what importance a given market has varied in a certain direction.

Higher OCI means more odds change in a a certaing direction. In my opinion an OCI higher than 50 gives us a significant idea of the market direction.

OCI value is similar to significant changes in Asian spreads in a certain direction. Indicators alone aren't enough obviously, but in correlation with other many factors, help us to see the picture complete.
The OCI indicator helps the sport traders to enter the correct strategy in sports trading.

Next matches

The first interesting tool of Tx Markets and easy to read is next matches who shows us on daily basis which are the matches with the relative average odds of the 1 x 2 results, over / under and the OCI indicator. Next to the OCI we find a report made by their analysts available for that game.

Let's take a look at PSG-Lille game. The first column shows the current average odds of all bookmakers who have quoted the event in Tx Markets which are 223. Next to the current average odd of the PSG there is 1.175 which is the average opening odd.

-1.5 was the Asian spread and the average current and the opening of it.

+3.5 was the over 3.5 with current and opening average.

2.139 was the current under 3.5 odd.

The number 223 with the up arrow indicates the number of bookmakers who have raised the PSG's odd, on the other hand Lille's odd has dropped by 218 bookmakers. Even if the odds have risen-up, the PSG was the favorite with a very low odd and won 2-0.

The fact that almost all bookmakers raise or lower a single odd is important as it means that they have recorded several bets on these signs and consequently vary the odds: the number of bookmakers who have changed odds is an indicator correlated to the volumes played even if obviously it doesn't provide deeper info about it.

Last number is the OCI which is 25.49 and, as mentioned before, is not very significant.

In this initial picture you will find all the football, tennis, basketball games etc with the main odds and the value of the OCI. This picture allows us to see if there are better matches to study because they have anomalous odds.


Report

The report found at the bottom of match analysis is a very useful tool developed by Txodds analysts that provides a statistical analysis, the movement of anomalous odds and other particular information on a single match. These easy-to-read synthetic reports give a very professional and immediate view of the match with news that are not easy to find. Analysts also interpret odds and movements providing interesting insights.

Usually these reports are released one day before or a couple of days before the game, it means that in the last 24/48 hours the odds may vary and so the reports could loose part of their accuracy.

Cost and promotion

Starting from September, a promotion is available that allows you to try Tx Markets for a month at a cost of 20 euros for the first month by entering the recurring payment and then it becomes 250 euros per month with XGIANLANDI discount coupon instead pay the basic cost of 25 euros for the first month.

To have the cost of 20 euros for the first month of Tx markets you have to click on the Txmarkets promotion and insert the voucher XGIANLANDI and choose recurring payment that you can cancel at any time without any constraints before the expiry of the first month! In this way it's like trying Txodds for 20 euros the first month!

If you decide to buy Tx markets for several months there is an active promotion with the following costs:

6 months of Txmarkets at 1200 euros
12 months of Txmarkets at 2000 euros

To access the purchase of Txodds for several months, you must click on purchase Txodds and choose the desired plan

Log in

To log in or sign up into txodds and immediately enter the platform you can click here in login txodds. In case you want to sign up, remember to use the voucher we created for you entering the word XGIANLANDI.

Video explanation

Below you will find a video explanation and review of some tools in Tx Markets and what it is OCI. This video is for the moment in italian language and we will insert soon the subtitles.

You can try Txmarkets for free for 1 week by signing up on this link and clicking on free trial. We created a special voucher for you and the only thing to do is entering GIANLANDI to start the trial. With this voucher, you'll get a free week and the possibility to buy Tx Markets paying 1 month 250 euros and having another one as a gift. If you do not want to buy Tx Markets you will only take a week's test and you will not be obliged to make the purchase.


Author: Gianluca Landi