Having a guide to betting exchange where you can find schematically all the the necessary information is undoubtedly an important aid for beginners or for those who approach for the first time to this new type of betting, while it may result unnecessary for those who already know it and have been working in it for some time. In our website there is already enough material in order to understand exactly what is betting exchange and how it works, but it isn't prepared sequentially and in an orderly way and those who don't know how to move between the main topics of the back and lay can find some comprehension difficulties.
For this reason, we prepared the guide Betting Exchange in pdf, that will be soon available on a specific and dedicated website. On the side you will find the main topics of the tutorial guide to betting exchange.
Learn to know Betting Exchange
Before you start using real money or you open an account, you should understand exactly how betting exchange works, how to do sport trading or how to apply the easiest strategies of back and lay.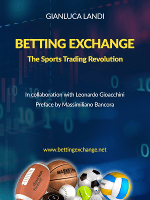 On every website of betting exchange you can find a lot of material, that will make easier the comprehension to you, but we suggest to buy our book "Betting Exchange: the Revolution of Sport Trading" by Gianluca Landi, which is worded to make people know and understand this new way of betting and trading. 
The book is written in a simple way and with a logical thread, which respects the salient topics that facilitate the understanding of the subject in question. This type of treatment and exposition has been possible due to the huge experience of engineer Landi in the sphere of sport trading and around training and business consulting. The book is available on Amazon both in digital format and in printed form to keep it always with you and consult it when you need it.
On the contrary, if you want to use our free material, you can do it on the website, but our advice is to read the summary of the book in the aforementioned article and to follow the logical thread recommended by the author, that is the result of a careful study and tests done with his students.
Discover the advantages
Once you followed the steps of the previous part, you will have surely understood the enormous advantages of the betting market and you will have matured the idea of starting to get a deeper knowledge of this extraordinary system.
It's clear that the use of bookmakers and bets made up to now makes no sense and you will have regret for the lost time and the lack of knowledge of the back and lay. The time of betting know as gambling or financial trading on manipulated markets or in the hands of brokers forex dealing desk or instruments such as binary options is over. It's time to begin to do things in a serious way!
The advice we give to everybody is to do things in a professional way and to leave web instruments that don't have a logical sense. Knowledge and study are everything in business and in life.
Open an account
Now you are finally ready to open a betting exchange account with the main operators of the Italian outline.
Open an account is very easy and you can use the banners in our website, where there are always some bonus and exclusive promotions.
If you want the explanation of how to open a betting exchange account with the different operators, you can choice at one of the link below:
Open a back and lay account with Betfair
Open a back and lay account with Betdaq

The opening of the betting exchange account with Betfair, that we recommend, is also used to use sports trading software and to start testing with virtual money. To use the trading platform you must have opened an account that is necessary to see the real-time odds of the Betfair exchange.

In this phase, it is better not to operate with real money, but to understand the movement of the odds and how markets work.

 

Learn to operate

After step 3, the opening of the account, now you can begin a free trial of 30 days with Traderline: the first betting exchange software which arrived in Italy. After reading the book, you can begin to make tests with virtual money, using the strategies described by us, and above all with a stake in per cent terms, that respects money management recommended by us, whether you are working with virtual money or real money.

In this phase you will begin to understand how the odds move in real time or what is the betfair delay etc…
At the beginning a lot of things may seem difficult, but it's just a matter of practice. You must bring in what you learned and the only thing to do is to invest in time and in money on yourself, which is the best investment that you can support and that will repay you in the future.
If you don't invest in yourself, who will do it?
If you do things in a serious and in a professional way, everything will be repaid with interests, and you will have the possibility to begin to earn with betting exchange.

 

Deep and improve

You're now arrived at the final step: the step in which you can go beyond improving and deepening the sport trading.
With a lot of time and study, some of you will be already become operating and some will have already begin to achieve some profit.

The journey to understand this whole new world all by yourself will not be easy, ma everyone can do it!

For those who want to go into betting exchange thoroughly in a professional way, there are some betting exchange courses through our betting school, which helps to shorten the learning time and become operational in the shortest possible time. That's unnecessary to precise, that trading is a dynamic activity, so you can't find everything in a book or in a website. It's necessary to see a book in real time and understand the dynamics of the movement of the odd directly with someone who can do it and then who can teach it.

If you see someone doing trading and explaining what he's doing live, that changes the perspective and everything becomes easier. Obviously the student has to apply himself and to study what he learned, otherwise he won't succeed in it.

 

Key terms

For those who start and want to understand the back and lay, it is fundamental to understand the meaning of the key terms of the guide to betting exchange, which are the basis of this new type of betting and of his functioning.
We collected these specific terms in a special section: betting exchange glossary. We advise you to read many times this section because it is very important.

Before you start, you need to understand the most important thing: to lay and to be responsible.


If you lay an odd you become like a bookmaker with the responsibility of paying who wins and who backs the odd.
The green up, known also as cash out, must be metabolized as soon as possible because it allows you to exit at any time from the trade made with a profit, whatever the final result is.
That is an instrument that you must always use because in the long run it makes the difference.

For those who want to know more about these topics and who want to have something that goes beyond our guide, we advise to buy the book "Betting Exchange" by Gianluca Landi. You can find it on Amazon or on the main Italian digital libraries.
Knowledge comes at first and it is an integral part of any activity.

 


Autore: Gianluca Landi
30-11--0001 Hits:17361 Gianluca Landi
How does the betting exchange work? This is certainly the first question that arises who hears this term or reads on some website an article that deals with the topic...
Read more