In this section reviews the best books on Betting Exchange, sports trading, psychology, money management present in the world panorama. The book on sports trading is certainly one of the first doors of access to this sector as the reader can find in an organic and ordered way by chapters all the main notions and information that can be consulted throughout his activity as a sports trader.
Many users and customers prefer the book in paper format bought on Amazon as it is easier to consult even during the trading day. For those who want to take part in a Gianluca Landi's betting exchange course, we recommend reading the book several times, especially the main parts where the key and essential concepts are collected to understand the functioning of the back and lay.
The books presented are on sale in paper format on Amazon or on various digital platforms such as google play books, kobo, itunes, etc.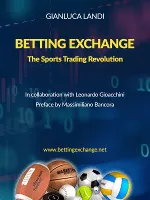 "Betting Exchange: The Sports Trading Revolution", written by Gianluca Landi, is finally available on the principal online libraries and on Amazon with paper version.
This book can be considered, without any doubt, the landmark about Betting Exchange. Inside it, you can also read the preface from Massimiliano Bancora, ex CEO of Betfair Italia.
I am so grateful to Massimiliano Bancora, because he's the one who contribuited decisively to the beginning of Betting Exchange in Italy. He gave us the privilege to contribute to our book writing the preface, with some interesting food for thought about the Betting System in Italy.
Written by:

Gianluca Landi

Category: Books