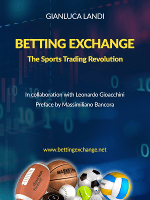 "Betting Exchange: The Sports Trading Revolution", written by Gianluca Landi, is finally available on the principal online libraries and on Amazon with paper version.
This book can be considered, without any doubt, the landmark about Betting Exchange. Inside it, you can also read the preface from Massimiliano Bancora, ex CEO of Betfair Italia.
I am so grateful to Massimiliano Bancora, because he's the one who contribuited decisively to the beginning of Betting Exchange in Italy. He gave us the privilege to contribute to our book writing the preface, with some interesting food for thought about the Betting System in Italy.