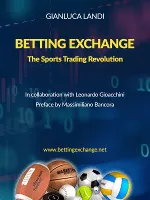 "Betting Exchange: The Sports Trading Revolution", written by Gianluca Landi, is finally available on the principal online libraries and on Amazon with paper version.
This book can be considered, without any doubt, the landmark about Betting Exchange. Inside it, you can also read the preface from Massimiliano Bancora, ex CEO of Betfair Italia.
I am so grateful to Massimiliano Bancora, because he's the one who contribuited decisively to the beginning of Betting Exchange in Italy. He gave us the privilege to contribute to our book writing the preface, with some interesting food for thought about the Betting System in Italy.
Why I wrote the Book
This book was conceived and written to present Betting Exchange to the biggest possible audience. From this point of view, this book filled the lack of professional information about this theme.
I realized that in Italy, and in Europe in general, there was no trace of a professional, serious and organic book about Betting Exchange and Sports Trading.
Another target of this book is to protect the copyright, because I have been copied in every possible way. I have found my method, strategies, key-concepts and images on other junk sites, and they claimed that everything was their propriety. We suggest you to make a simple test: go on https://archive.org and use the time machine to look with your eyes who's the original and who's the fake.
For this reason, in last months I stopped adding new material on our sites, waiting for the publication of my book "Betting Exchange: The Sports Trading Revolution". Due to this book, many other sites had to"invent" new contents which can only bring potential new users on the wrong side.
The structure of the book
This book is part of a bigger project with European dimension, focused on Betting Exchange spread. That's why we choosed to realize a book not just for the Italian audience.
This book has a lot of original tools and concepts that you can find only on it (you can not find them neither on our internet sites), and it's structured with a logic that guides the reader step by step to the comprehension of Betting Exchange, leading him to the first concrete steps in sports trading and scalping, using the "back and lay" concept.
We want to be clear: to become a professional sports trader, it is necessary to face a complete training, do a lot of practice on live markets to learn how to use a ladder; this book helps you to decrease the time you need to complete this route.
Inside "Betting Exchange: The Sports Trading Revolution" you can find a good part of Gianluca Landi's knowledge, but for obvious reasons some "tricks" can not be explaind on the pages of a book. We also want to protect the competitive advantage of people who already attended a Sports Trading Master, and people that are going to attend it.
SUMMARY
This book has 258 pages and it's structured with 10 chapters, where we explain the principal themes respecting a logical thread, to lead the reader to the comprehension of every concept.
This is the summary of the book:
Massimo Bancora preface
Intro
Chapter 1: Betting Exchange
Chapter 2: Betfair
Chapter 3: Betting Exchange Markets
Chapter 4: Odds and betting categories
Chapter 5: Psychlogy and money management
Chapter 6: The Sport Trader
Chapter 7: Softwares and Betting Exchange platforms
Chapter 8: Trading and Scalping
Chapter 9: Betting Exchange Strategies
Chapter 10: Betting Exchange in Italy
Glossary
Conclusions
Is this book a kind of "guide" about Betting Exchange?

It is very reductive (not to say offensive) to define this book just a "guide". This is the best book about Betting Exchange, it's extremely precise and professional and it talks about every important concept you need to know about Betting Exchange.
How to buy the book
The book is available with paper version on Amazon. This for people who prefer a traditional book and for those who want to use it easily during trading operativity.
The e-book version is available on the principal online libraries:
The book received very positive reviews from readers, and it is in ranking's first places of the "trading and betting" category. We are proud of it, we are grateful to all the people who appreciated our work and we want to go on with our mission: bring Betting Exchange to the big audience.
Why the book is cheap
As we said, the book has the purpose to let know Betting Exchange to the biggest possible audience. It was not written for commercial or speculative motivations. We are aware about its low cost because lot of people write us asking how is it possible to sell such a professional book to only 16 £ on Amazon, while other books, with less contents, sell their book to a bigger price (from 3 to 10 times more expansive)?
This book is written by a professional trader who knows markets really deeply and has a specific culture superior than other ones. Compared to Gianluca Landi, the others can not be defined as "competitors" because they really have nothing to share with us.
We kindly ask you to distinguish us from the others, we are different!
Written by:

Gianluca Landi

Category: Books